Details
Details

Category: Hamlet HDSL640 USB Modem
Created on Thursday, February 03 2011 00: 10
Last modified on Tuesday, September 23 2014 21: 46
Written by Staff ADSL Solution
Views: 2709
This article will guide describes the configuration of the modem Hamlet HDSL640 USB
a simple modem device for those who do not look complicated but especially for someone who has a line adsl until 8Mbps because it is a ADSL1 that does not support higher speeds.
Another detail to consider is that at the time of this guide, there are no official drivers that support different operating systems by: Windows ME, 2000, XP.
We start the installation by connecting the modem to a USB port on our PC and inserting the CD provided in the box modem Hamlet HDSL640 USB
when Windows will notice the link you will see a window similar to the one shown in the figure: spuntiamo "Install from a list ......"And press"Forward"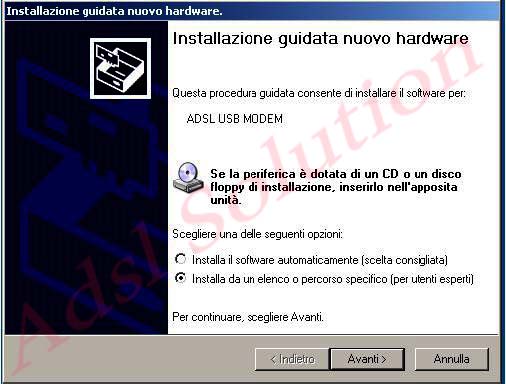 Check the items as shown below and where you can find "D: \" click on the button puff pastry and look inside the installation CD : \ Driver \ WAN
click on OK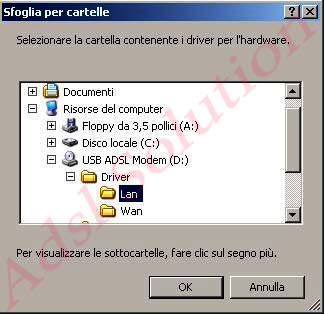 As is often the Windows warns us about possible instability of the settle that may occur due to the installation of a software
In this case, click on "Continuing"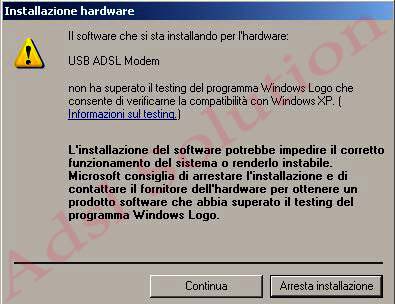 The installation of the Driver is complete now we have to configure the modem Hamlet HDSL640 USB with the parameters issued by our ISP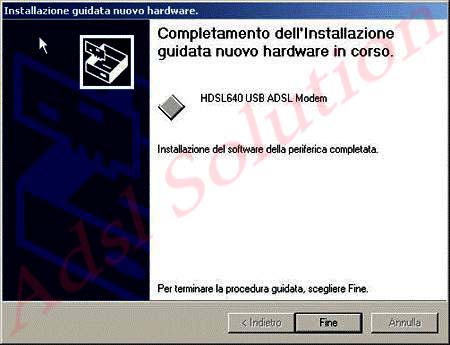 By clicking the modem icon Hamlet HDSL640 USB present in the taskbar will show the state in which it is located.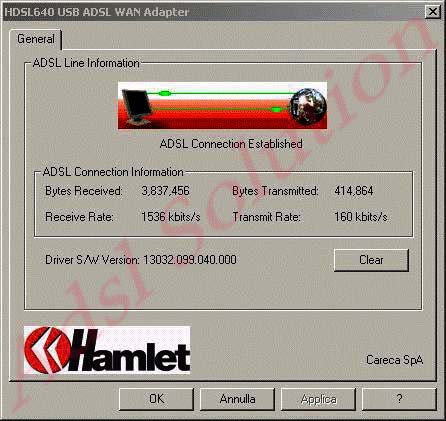 While pressing the key combination [Other] + [P] On the keyboard window will appear that will allow you to configure the modem: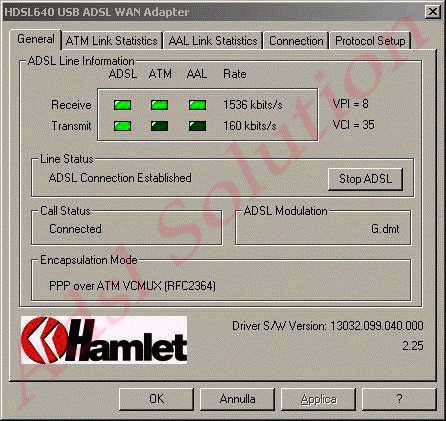 Select "Protocol Setup"Comipare and fields according to the parameters suggested by your Internet Service Provider: "VPI", "VCI" and "Encapsulation Mode"
If you do not remember them you can check them on the "Configuration Parameters"
Select "OK"
The configuration is finished!
Click on the icon ADSL present on the desktop, insert "Username"And" Password"Supplied by your ISP leaving unchanged the field "Compose: 0000000"
Click on the button "Dial " and then open your browser preferito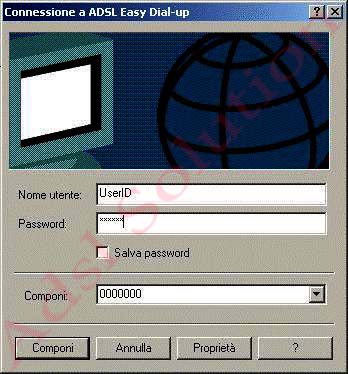 Happy surfing!